YR Series
YR Multiple Embedded Rotary Injection Molding Machine Series
Vertical clamping with vertical injection.
Rotary table oscillate 180°, rotate back / forth for easy loading and finished parts pick out, to increase productivity.
Rotary table with location pin, accurate positioning for mold alignment and automation.
Robot interface capability for complete automation.
Standardized with 2-station function, and capable for 3-station or 4-station function & automation linkup for advanced efficiency.
Standardized with 3-columns clamp, and available for 4-columns clamping upon request.
---
---
Hardware & Household Item
---
Auto & Glass
---
Consumer Electronics
---
High-Speed Injection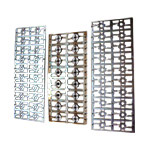 ---
Backlite & LCP
---
Medical
---
IMD & IML
---
Other
---
Inquiry
Professional Staff at Your Service.